What's New?

Piedras Blancas Elephant Seal Rookery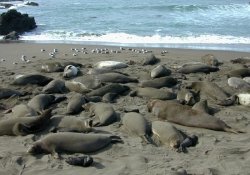 If you travel to Ragged Point from the South, you can't miss the elephant seals that fill the beaches just 8 miles before you reach us. The elephant seal beach, more formally known as the Piedras Blancas Elephant Seal Rookery, is a great way to view these huge, extraordinary sea creatures in their natural habitat and learn a little bit about them.
The piedras blancas elephant seal rookery and beaches are part of the Piedras Blancas State Marine Reserve and Marine Conservation Area (SMR and SMCA), and are operated by the California Department of Fish and Game.
Elephant Seals

The elephant seals that own this stretch of coastline are Northern Elephant Seals. These gigantic creatures are actually the second largest seals in existence. An adult male may reach a length of 14 to 16 feet and weigh between 3,000 to 5,000 pounds; an adult female is typically 9 to 12 feet in length and can weigh up to 1,800 pounds; and a young adult is only about 3 to 4 feet in length and weighs 60 to 80 pounds.
Elephant seals are long-distance, deep-sea travelers. They typically spend 8 to 10 months a year in the open ocean, can dive down 1,000 to 5,800 feet for periods of up to two hours, and migrate thousands of miles, twice a year, to a land-based rookery like the one you'll see here.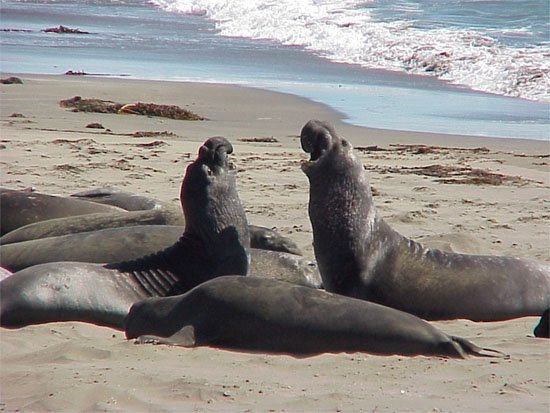 History of the Piedras Blancas Elephant Seals

You may be surprised to learn that this beach wasn't always filled with these giant sea creatures! The elephant seals are fairly recent residents of our shores.
A quick condensed history of the Piedras Blancas Elephant Seal Rookery, as described by https://inspiredimperfection.com, follows:
•In 1990, the first elephant seals arrived on the beaches just south of the Piedras Blancas lighthouse.
•By the spring of 1991, almost 400 seals had arrived to molt.
•In February 1992, the first elephant seal pup was born at Piedras Blancas.
•In 1993, about 50 pups were born.
•In 1995, about 600 pups were born.
•By 1996, the number of new pups had reached nearly 1000 and the colony stretched southward and northward to the beach adjacent to Highway 1.
•The majority of Northern Elephant Seals return to the original seal rookery in which they were born.
•Between 2014 and 2015, more than 23,000 elephant seals arrived at Piedras Blancas.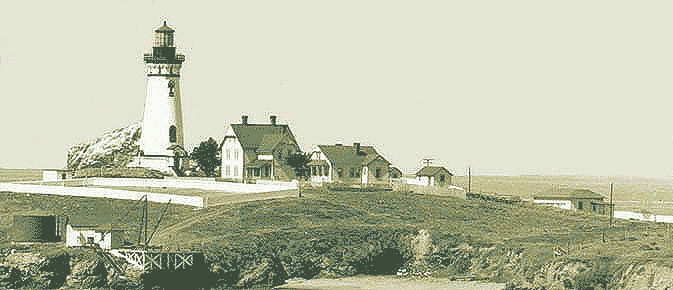 Best Way to View Elephant Seals
More than 7,000 Northern Elephant Seals live at the Piedras Blancas Elephant Seal Rookery, making it one of the largest rookeries on the California coast. This rookery is just 8 miles south of Ragged Point, on the western side of California Highway 1, and currently extends about 6 miles. To learn more about the rookery and the Piedras Blancas Lighthouse, go to the Friends of the Elephant Seal website, http://www.elephantseal.org/.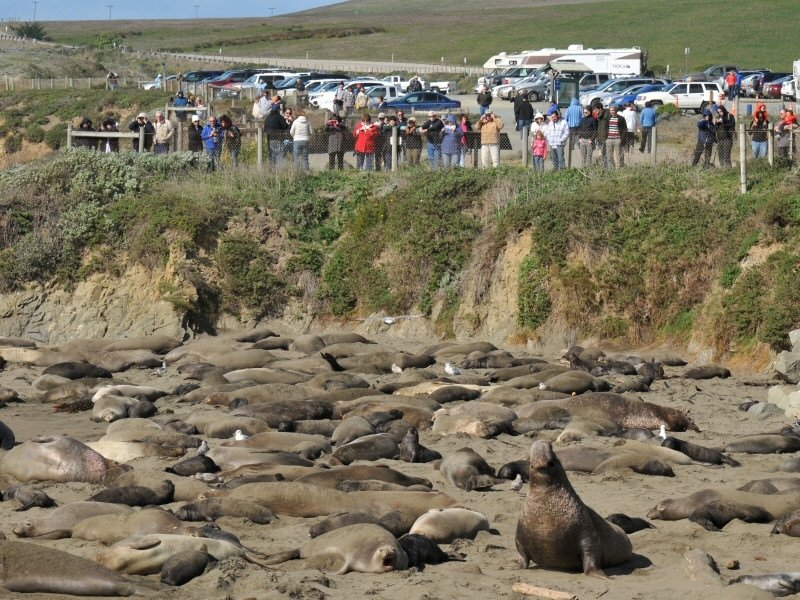 Best Time to Visit the Elephant Seals
The most exciting time of the year to visit the Piedras Blancas Rookery is from December through March!
By late November, mature male elephant seals have usually begun to return, and join the sub-adults and juveniles who inhabit the beaches. The number of males grows throughout December, at which time the first pregnant females land at the rookery and give birth within hours of their arrival. Birthing activity continues through January and peaks in the last half of that month.
In December and January, adult male activity is at a peak, as the big boys fight to establish their territories and dominate pupping areas.
But every season is a good time to visit the rookery and watch as the numbers of various types of elephant seals change and their levels of activity vary. And whenever you come, don't forget your binoculars, your sweater and windbreaker, and your comfortable walking shoes.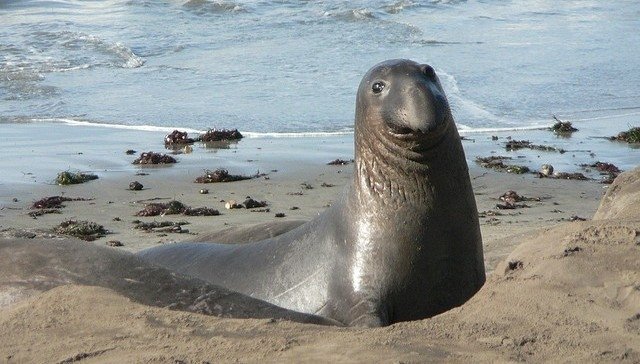 Piedras Blancas Viewing Areas
The Piedras Blancas Elephant Seal Rookery occupies over 6 miles of the beach front, from Point Piedras Blancas north. The best viewing area is usually about 1.5 miles south of Point Piedras Blancas, on the ocean side of Highway 1. Viewing areas range from raised wooden platforms to dirt paths.
The viewing areas are open to the public every day of the year, feature plenty of adjacent parking, are wheelchair accessible, and require no fees or reservations. Please stick to the designated parking and viewing areas, and carefully exit and enter Highway 1 when you visit.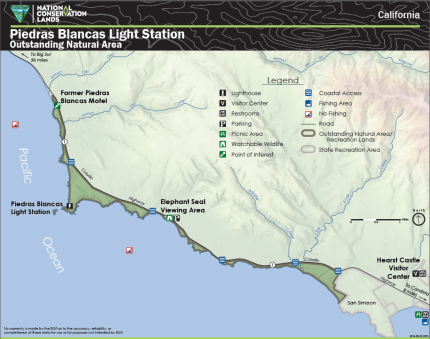 Viewing Tips and Recommendations
To make viewing safe and enjoyable for all guests (and for the elephant seals!), a few rules are necessary. Detailed rules are posted at the viewing areas and docents are usually available on-site if you have questions. But the most important rules follow:
* Stick to the designated parking lots and identified viewing areas.
* Keep a safe distance from the elephant seals.
* Drones are prohibited.
* Do not feed the squirrels or birds!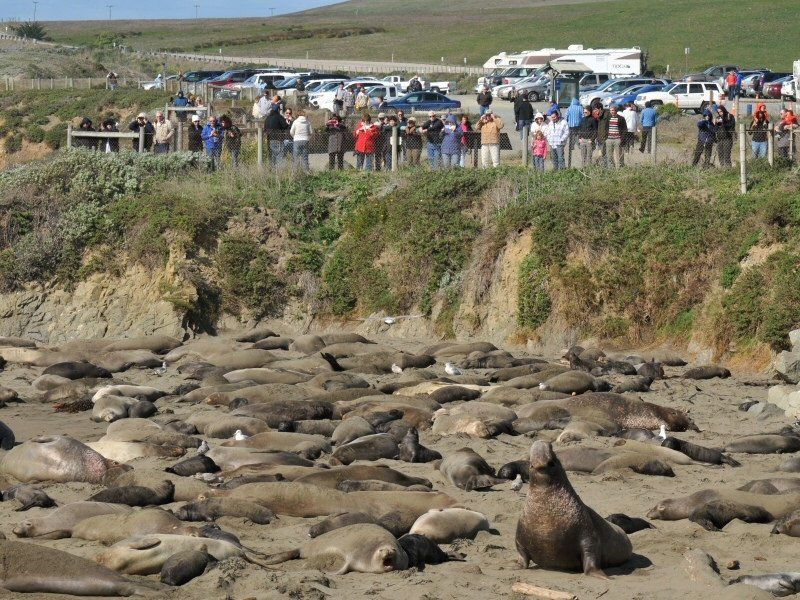 Fun Facts about Elephant Seals
According to https://en.wikipedia.org/wiki/Elephant_seal here are some fun facts.
•Elephant seals spend about 80% of their lives in the oceans.
•The average lifespan of an elephant seal is between 18 and 22 years.
•Adult males can weigh about 2,000 to 6,000 pounds.
•An elephant seal can hold its breath for over two hours, which is the longest of any water-based mammal.
•An elephant seal molts its skin every year, and it must be on land to shed old skin and regrow new skin; this is why elephant seals come back to the beach every year.
•The main diet of an elephant seal includes sting rays, octopi, squid, penguins, and eels.
There are two species of elephant seals:
•Northern elephant seals and Southern elephant seals. Only Northern elephant seals are born at the Piedras Blancas beaches and return there.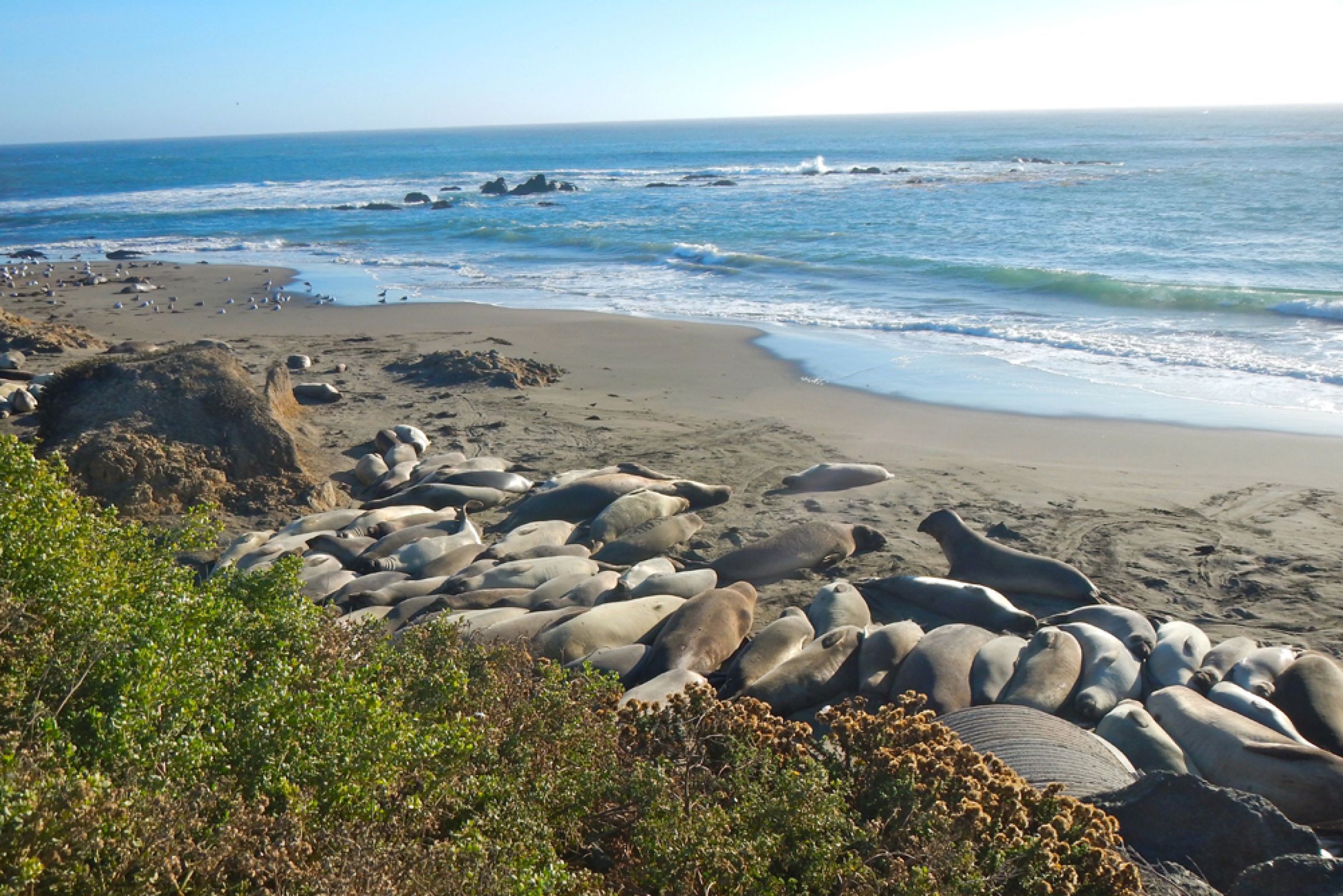 What Is a Rookery of Seals?
A "rookery" is a nesting place for breeding animals, like seabirds or marine animals like the elephant seal. An elephant seal rookery is the place where an elephant seal is born and returns throughout its lifetime, to molt, mate, birth, and rest. The elephant seals born at the Piedras Blancas rookery, leave to eat food near the gulf of Alaska, then return here every year to molt.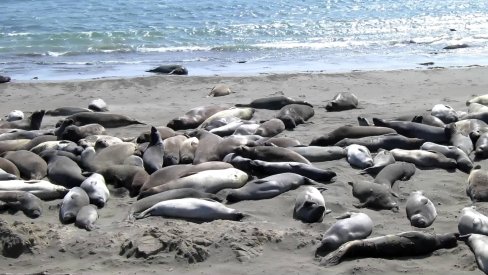 Where Do Elephant Seals Migrate From and To?
Northern elephant seals migrate twice a year and travel farther than any other mammal. An elephant seal may travel up to 12,500 miles to reach its destination.
When the Piedras Blancas elephant seals leave the rookery in March, they head up the coast to the Gulf of Alaska. Male elephant seals typically migrate to the northern end of the Gulf of Alaska to feed on small sharks, small to medium-sized fish, and stingrays. Female elephant seals typically migrate to the southern end of the Gulf of Alaska, to feed mostly on squid. Both males and females stay at the Gulf of Alaska until springtime or summertime, when they return to their respective rookeries.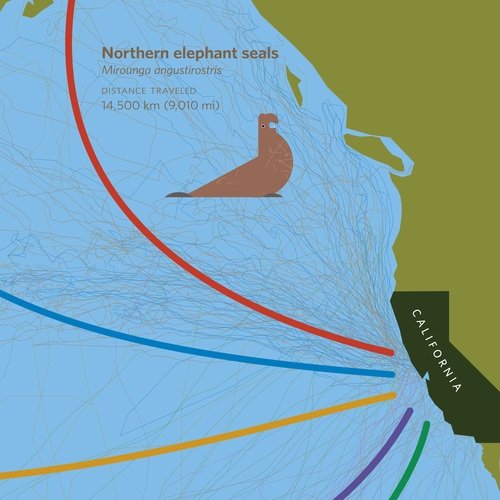 Do Elephant Seals Have Any Predators?
In the open ocean, mature elephant seals are pretty much at the top of the food chain, thanks to their immense size and tusks. The few predators that are known to attack elephant seals include killer whales and white sharks. Newborns and pups are also prey for leopard seals, other sea lions, and other marine mammals.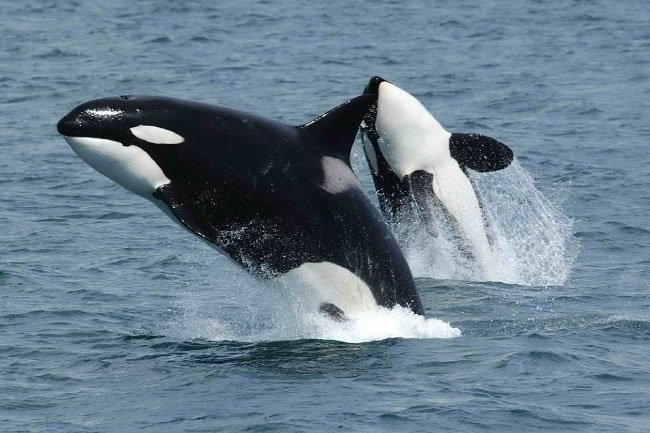 Where Are The Elephant Seals In California?
There are many rookeries along the California Coast, but there are only a few viewing locations. Two of California's public viewing locations are described below:
Ano Nuevo State Park
At Ano Nuevo State Park, you can view elephant seals year-round. As many as 9,000 elephant seals inhabit the park, making it the largest elephant seal population in California. A three-mile long public viewing area is provided, and guided tours are available. The park also features a variety of plants, natural views, and physical terrain.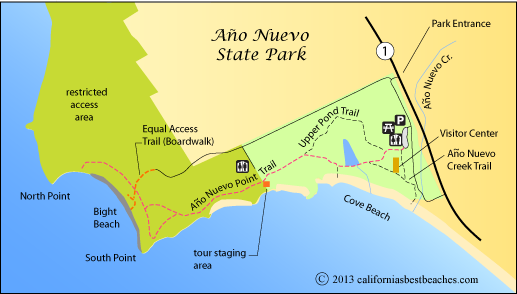 Point Reyes National Seashore

Since 1970, large numbers of elephant seals have been returning to the Chimney Rock area of the Point Reyes National Seashore. From January through March, a shuttle bus service transports tourists from the Drakes Beach parking area to viewing locations. Viewing time is limited to 30 minutes maximum and viewers are advised to stay 60 yards back from the elephant seals. For more information about Point Reyes, click here:
The following map identifies California elephant seal rookeries: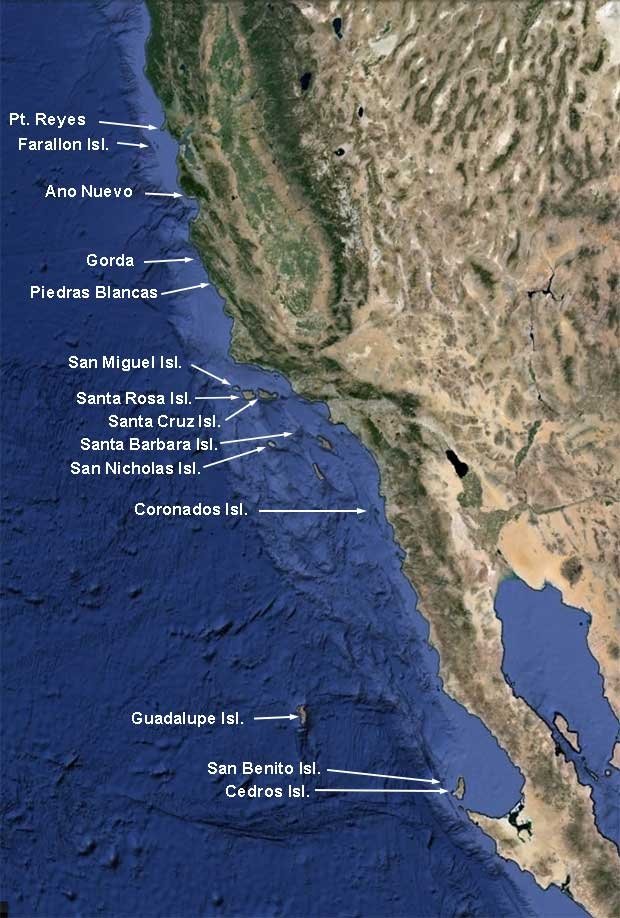 Birthing and Breeding Season
Birthing season usually runs from early winter through springtime. Pregnant elephant seals arrive at the rookery for the purpose of giving birth, and often do so within two days of their arrival. Usually born at night, newborn weigh between 50 and 280 pounds. A mother elephant seal typically nurses her baby for nearly a month, and soon after that, mates with an alpha elephant seal (or "bull"). The mother soon returns to the sea, leaving the young elephant seal to find food on his own and learn to swim. By late April, most young elephant seals are ready to leave the rookery for the open ocean.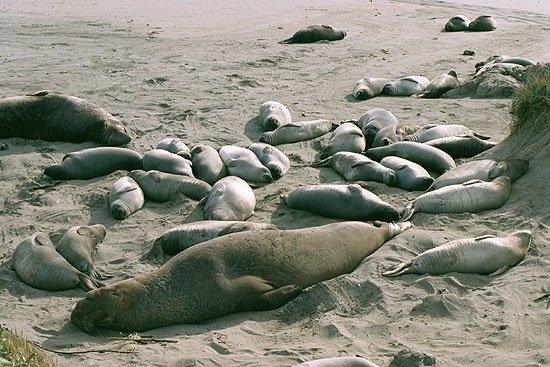 Molting Season
When an elephant seal is ready to molt (or shed its skin), it returns to the rookery where it was born. The molting process takes place on land, in the rookery. From April to May, the rookery is filled with adult females and smaller juveniles. When molting is complete, these elephant seals return to the open ocean. In June, teenager males and adult males come to the rookery, as their molting season begins. By August, most of these elephant seals have also returned to the sea.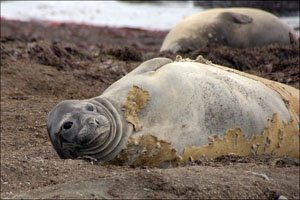 Rookery Calendar
This is what you can look forward to each month at the Piedras Blancas Elephant Seal Rookery:
January – First young female elephant seals arrive. A peak of birthing occurs the last 2 weeks of January.
February - Elephant seal births continue at a rapid rate. Females usually leave after giving birth.
March - Last adult elephant seals leave the rookery.
April - Young female elephant seals return to their birthplaces to molt.
May - Molting season really begins.
June - Male juveniles and adults return to their birthplaces to molt.
July – Male juvenile and adult molting continues.
August - Molting is done ends. By the end of August, most adult elephant seals have left.
September - Very young elephant seals (both male and female) return to their birthplaces to rest.
October - Very young elephant seals continue to return to their birthplaces to rest.
November - Juvenile elephant seals leave the rookery; large male adult elephant seals begin to arrive by the end of the month.
December - Large adult elephant seals continue to arrive; adult females arrive and the first births occur by mid-month.
Background of Elephant Seals
Late in the 19th Century, when whales became scarce, fishermen sought an alternative source of oil-rich whale blubber. Finding the elephant seals to be an easy replacement, they hunted them to near extinction. By the early 1900s, only about 100 elephant seals remained, and nearly all of them lived off the Baja California coast.
This story does have a happy ending. Mexico declared the elephant seal an endangered species and provided the remaining animals with a safe haven. Largely because of this and the Marine Mammal Protection Act, the elephant seal population now numbers over 150,000, and the great majority of them are in or near California waters. This is why we see so many elephant seals at the rookery!
You must check out and view the elephant seals first and foremost. But there are also stuff you can do around the area. For example, there are a few hikes in the local area you can do, you can visit the William Randolph Hearst Memorial Beach, you can go to the friends of the elephant seal gift shop or you can visit the Hearst Castle Historical Monument in San Simeon.
Piedras Blancas Light Station Natural Area
About 1½ miles north of the Piedras Blancas Elephant Seal Rookery and viewing areas is the Piedras Blancas Light Station Natural Area. This East Coast-style light house, was established in 1875, and has a rich and fascinating history. Regular tours of the lighthouse and the surrounding trails are conducted. For details, see the Piedras Blancas Light Station Association at http://www.piedrasblancas.org/index.html