What's New?

Hiking in Big Sur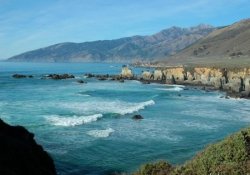 To experience Big Sur's beautiful scenery first-hand, why not take a hike? Some of the most beautiful, most scenic hikes and trails in the world are just a short trip up the road from Ragged Point. These hikes range from level, short, and easy to steep, long, and treacherous.
We describe some of our favorites here. Keep in mind that hikes may be closed due to adverse weather or unfavorable trail conditions. Look on the Internet or in Lumiere, the Ragged Point Hotel gift shop, for more suggestions.
The Best Trails in Big Sur
Salmon Creek Trail
One of the most popular short hikes for locals, Salmon Creek Falls is just a quarter-mile round-trip hike from Highway 1. This amazing trail, which starts at a Highway 1 pullout just 3.6 miles north of Ragged Point (or 45 miles south of the Pfeiffer Big Sur State Park entrance). From this pullout, follow the Salmon Creek Trail signs directly to a beautiful 120-foot waterfall. For the more adventurous, the entire 10.9-mile trail provides a total elevation gain of 6,063 feet, and a great introduction to the Silver Peak Wilderness.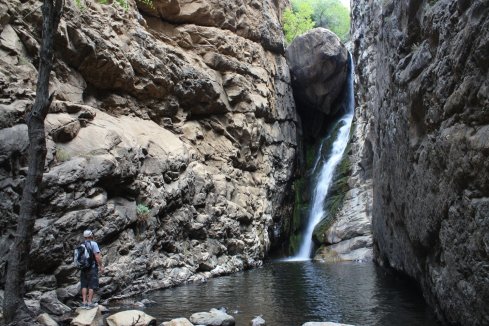 Pacific Valley Bluff Trail

The breathtaking Pacific Valley Bluff Trail is a flat, 1.6-mile loop that is accessible to all skill levels and available to dogs on leash. Just a few miles north of Gorda, the Pacific Valley Bluff Trail provides panoramic ocean, beach, and bluff views, unique plant life, and lots of in-season wildflowers. If you only have time for just one quick hike during your stay, this trail is a good choice.
The Pacific Valley Bluff trailhead is 16 miles north of Ragged Point (4.6 miles north of Gorda). If you're traveling south on Highway 1, it is 8.4 miles south of Lucia or 32.5 miles south of Pfeiffer Big Sur State Park. The trail begins at the Pacific Valley Ranger Station, a set of unmarked buildings across from Sand Dollar Beach.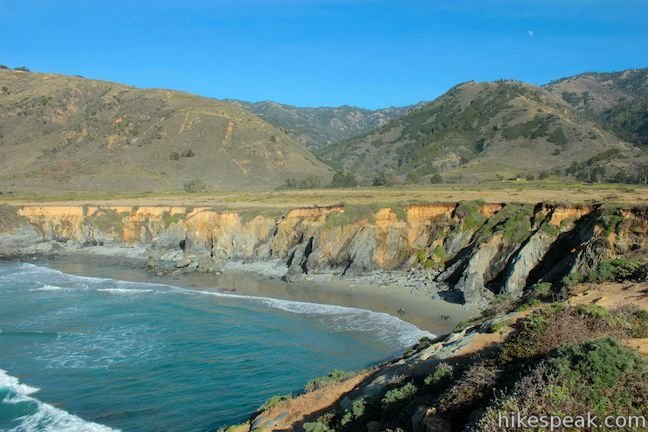 Ragged Point Cliffside Trail

While you're visiting, consider trying the Ragged Point Cliffside trail, which starts behind the Portal to Big Sur sculpture that marks the top of our Million Dollar View. This windy, steep trail can be treacherous and slippery, and is only recommended to the adventurous hiker.
If you dare to descend the 300-foot cliff, you will be richly rewarded with amazing ocean and mountain views, including the Black Swift Falls and a black sand beach at the base. While this out-and-back hike is only 0.8 miles in length, you should allow yourself an hour to complete it, thanks to its rugged, cliffside location.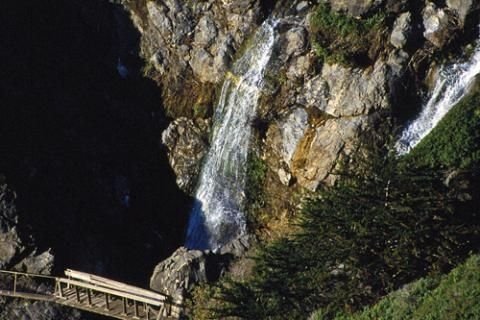 While your visiting Big Sur get a room at Ragged Point Inn, the only ocean-view hotel near Big Sur. Each cliff-side room at Ragged Point has its own personal balcony or deck where you can relax, recharge, and enjoy your stay. You can learn more here.
San Carpoforo Creek Trail

Just 1½ miles south of Ragged Point, San Carpoforo Creek meets the Pacific Ocean. Here you'll find a flat and easy one-mile trail that features views of local sea birds and in-season wildflowers. The San Carpoforo Creek Trail also offers swimming, fishing, and wind sailing opportunities, and a "secret" beach.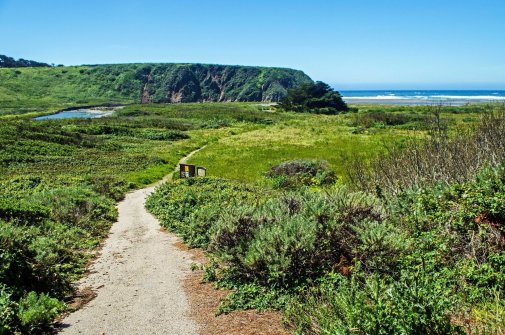 Boucher Trail

While you're visiting the elephant seals, why not extend your visit by hiking the Boucher Trail? This short trail provides a way to escape the elephant seal crowds and take in the historic Piedras Blancas Lighthouse, wildflowers, and wildlife. This trail follows the coastline from the northernmost elephant seals parking lot.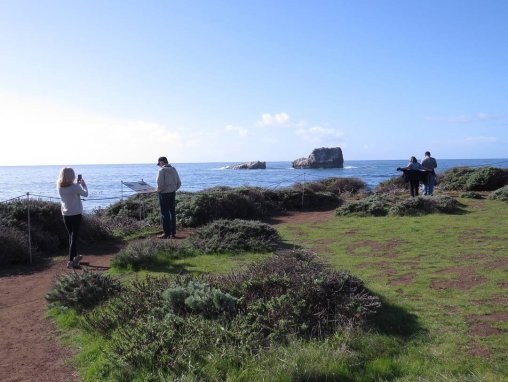 McWay Waterfall Trail

From the McWay Waterfall Trail, you can view one of the most iconic images of the Big Sur, an 80-foot fall that drops directly onto the beach. This moderately easy trail also offers beautiful canyon, redwood, and ocean views. The main trail is only about ½ mile in length, and you can extend it by following the signs to the Pelton Wheel trail.
To begin the hike, you can either follow the signs from the Julia Pfeiffer Burns State Park parking lot (a small fee is required) or park along the west side of the highway. The park entrance is about 48 miles north of Ragged Point or 37 miles south of Carmel.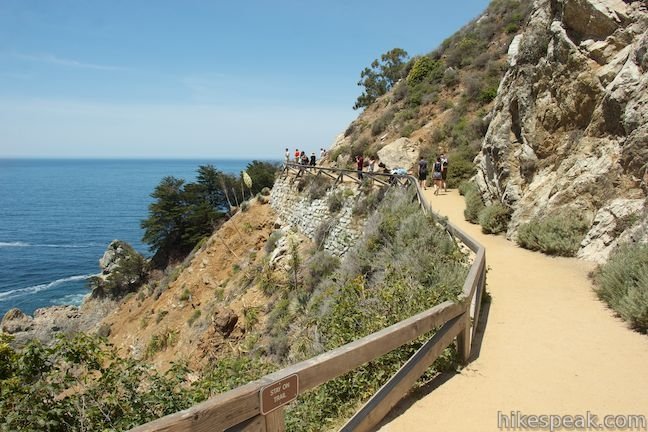 Limekiln Trails
This kid-friendly trail has three branches, each about ½ mile long. Each branch provides a fun, flat walk through redwoods and rivers. The trail is located in Limekiln State Park and offers views of a waterfall and the historic lime kilns. Your children will enjoy some rock-hopping crossing the creek to finish these fairly level, out-and-back hikes.
Limekiln State Park is about 22 miles north of Ragged Point (or two miles past the Nacimiento-Fergusson Road turnoff) on the inland side of Highway 1. If you're coming from the North, the park is 26 miles south of Pfeiffer Big Sur State Park or two miles past the tiny community of Lucia.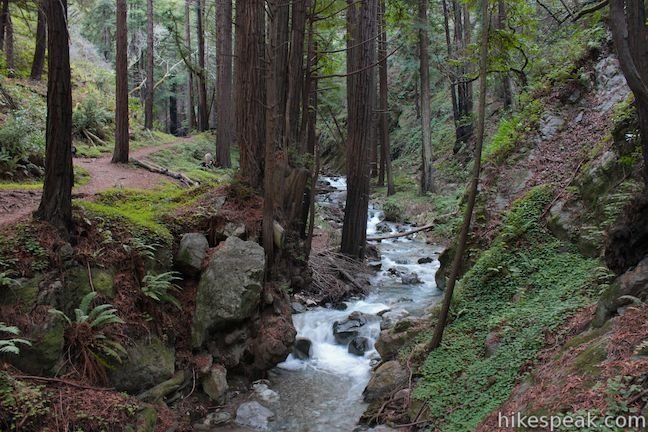 Tan Bark Trail
For a more challenging hike, consider the Tan Bark Trail, a steep, 5.6-mile loop along Partington Creek. This strenuous route takes you through a variety of Big Sur environments: tanbark oaks, twisty redwoods, ferns, rock outcroppings, large boulders, and canyons. After you pass the crumbling Tin House (built in 1944 by Lathrop Brown), you head back a steep fire road to enjoy stunning views of the Pacific Ocean and Highway 1.
To get to the Tan Bark Trail, drive about 40 miles north from Ragged Point, about two miles north of the Julia Pfeiffer Burns pullout. The trailhead is a pullout on the inland side of Highway 1, across from the Partington Cove gate. If you're driving from the North, the pullout is nine miles south of the Pfeiffer Big Sur State Park entrance or six miles south of Nepenthe.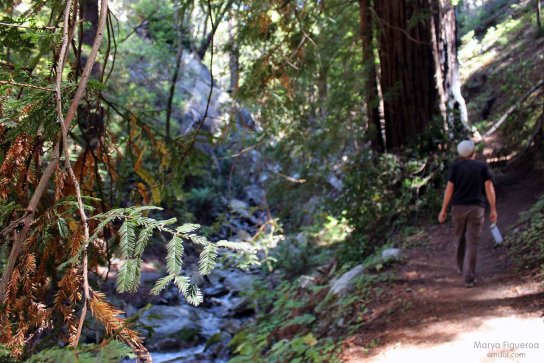 Pfeiffer Falls/ Valley View Trails
The Pfeiffer Falls and Valley View Trails hike is perfect hike if you want to see different kinds of trails. From big redwood trees to large wildflowers across ridges. You'll also get to see amazing views and a stunning waterfall. One cool thing about this trail is that it splits into two ways - one way goes to Pfeiffer Falls and one goes to Valley View Trails.
One important note is that the Pfieffer Falls Trails is closed as of now due to damage from winter storms (the Valley View Trails are still open). The trailhead begins at Highway 1 located on the east side of Highway 1, just about 10 miles north of Pfeiffer Burns State Park. There are signs on the road and when you get to the entrance you'll have to pay a $10 fee for day use. If you want to stay the night there is a $35 to $50 fee per night. Also no permit is required to come out to Pfeiffer Falls and Valley Views.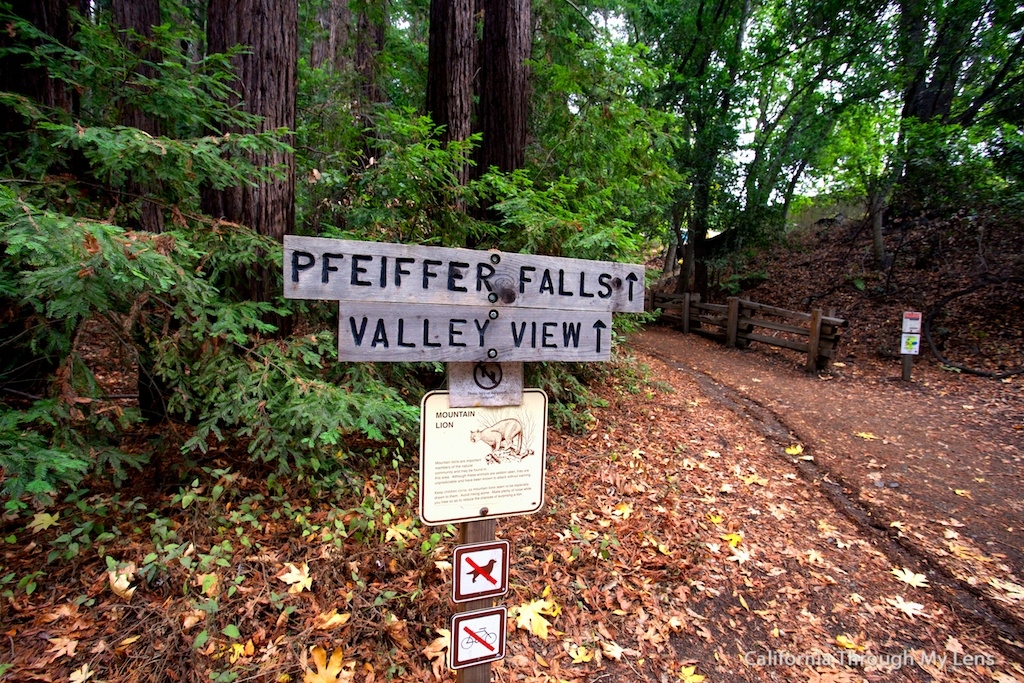 Mill Creek Trail
This 14.9 mile hike has stunning beautiful wild flowers and is not the easiest of hikes. The trailhead is located just south of the bridge over Mill Creek. This awesome trail starts with dense lush greens with smaller redwoods and once you descend you'll see bigger redwoods and many creeks. The trailhead is marked with "Grove of Titans" sign and dogs are welcome. Many people comment that the trail has breathtaking views and has lush greens.
This hike is perfect for people who want a long challenging hike.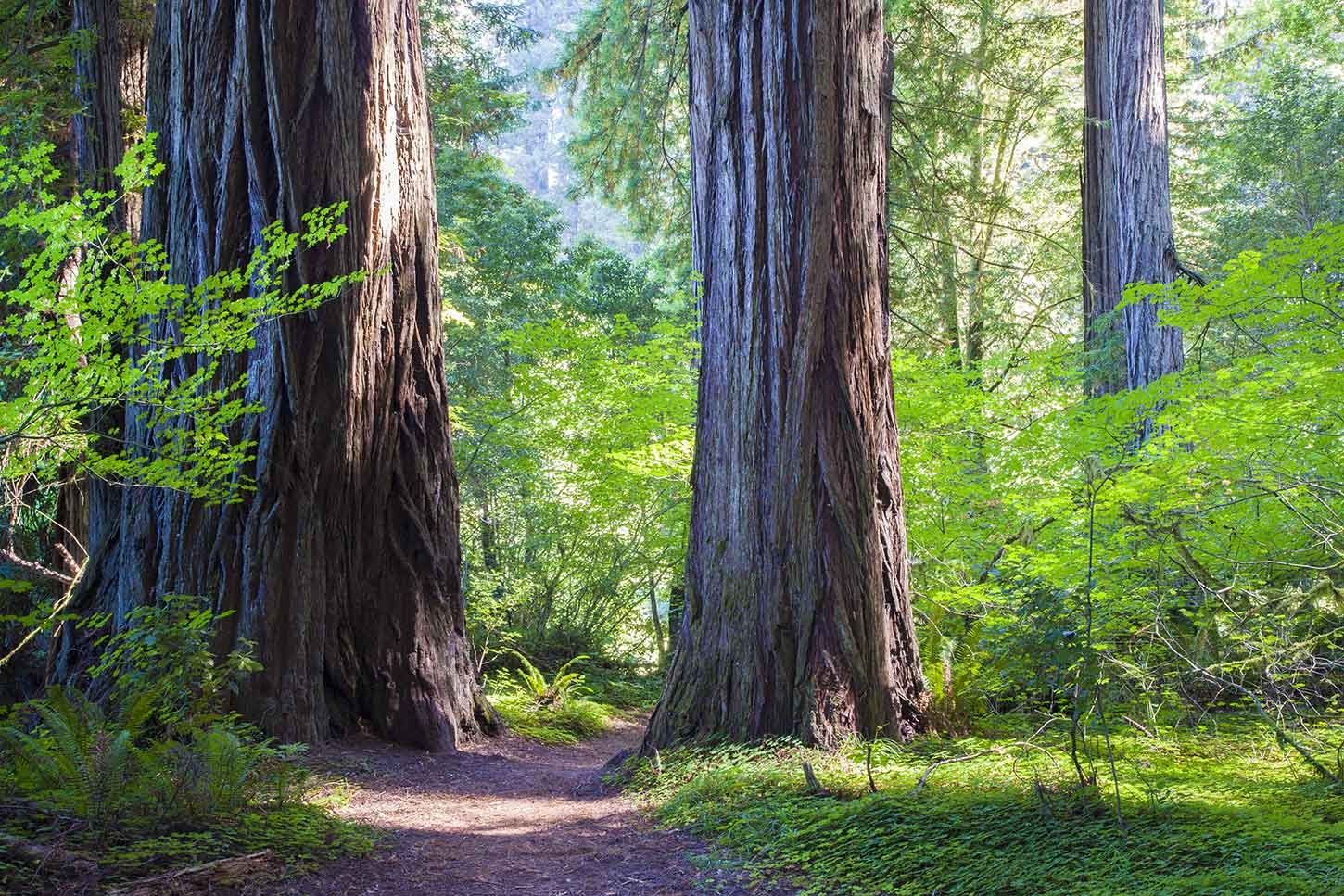 Vicente Flat Trail
This amazing trail is the quintessential hike in Big Sur. The trail opens up on a stunning hillside with amazing views of the oceanside. In spring, you'll see an impressive beds of flowers all over the trail. The trail also goes into a woody tree area, with some nice views of the canyon. The actual trail is somewhat narrow and can get very steep. The length of the hike is about 4-10 miles long depending on your hike. Like we mentioned before, the trail can get steep and tricky so be careful. The trailhead is located on Highway 1 - you can park on either side of the road. The trailhead is located just south of Highway 1 just about 3 miles south of Lucia and 26 miles south of Pfeiffer Big Sur State Park.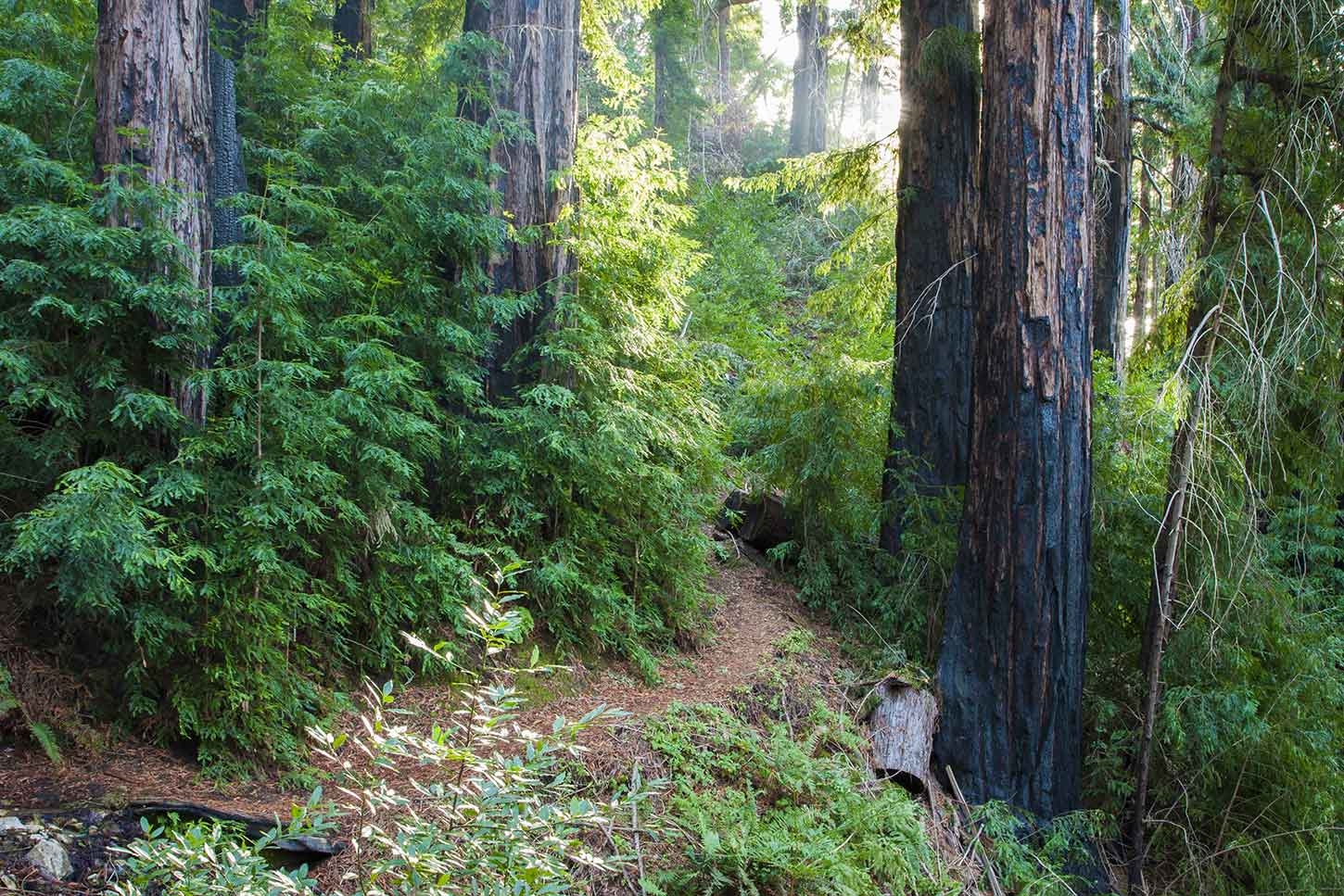 Andrew Molera State Park Trail

Headed south from Monterey this is one of the first parks you will see just past the Bixby Bridge. While it may not have the majestic coastline that is so typical of Big Sur, it does provide a nice short hike to an often less busy beach. A seasonal footbridge is provided on the trail, in the off season you may get your feet wet. This hike in Big Sur connects with several other loops that would allow you to extend this hike all the way to 8 miles.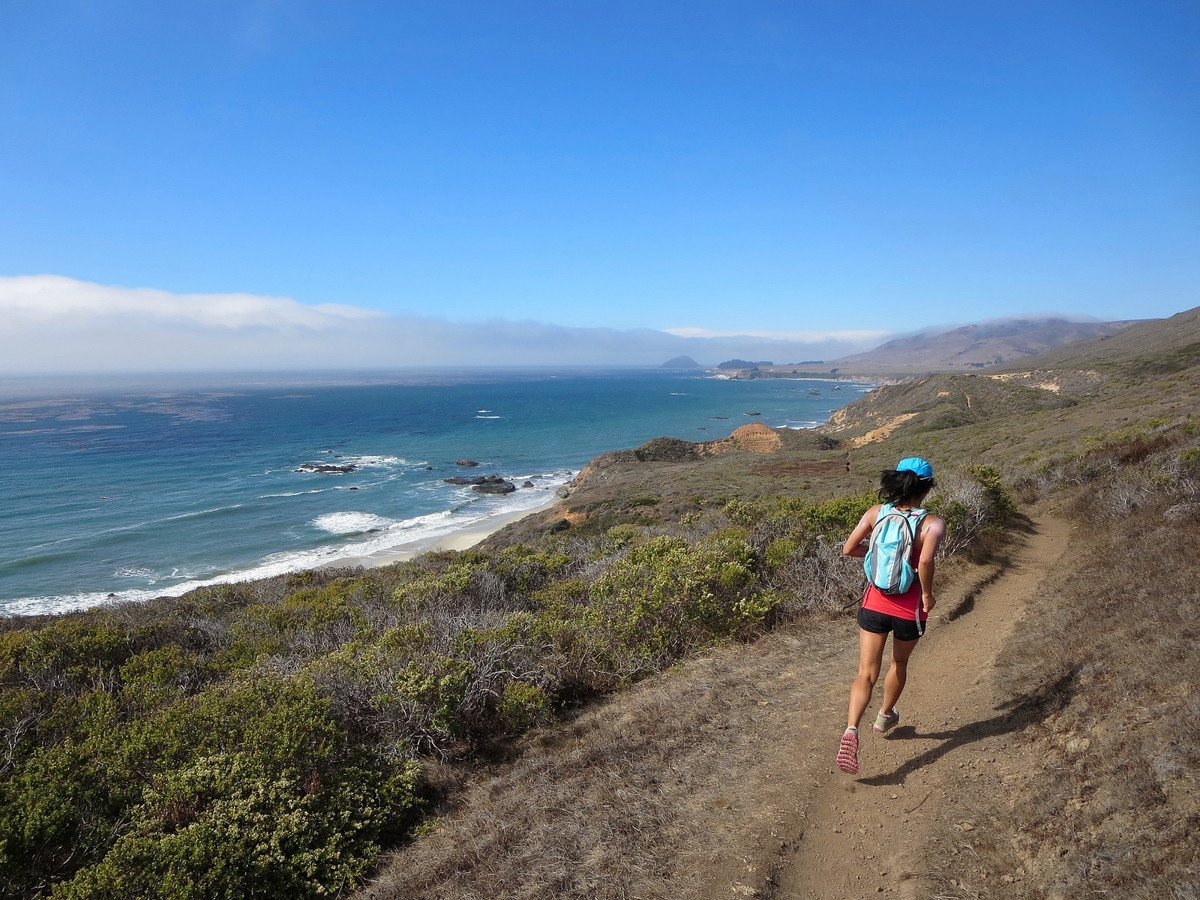 Ragged Point Fire Road Trail
This hike starts out in the southern part of big sur. The beginning of the trail starts right across the road from Ragged Point Inn. The hike starts out uphill and doesn't really let up, you'll get a workout no doubt. The views are really spectacular at the top of the hike. The hike is approximately 4 and half miles all the way up and down. This hike is on the Graded Fire Road and if you're wondering about the elevation gain, it's approximately 1700' and there are restrooms on the hike. There is no official name for this trail so we dubbed it Ragged Point Fire Road Trail.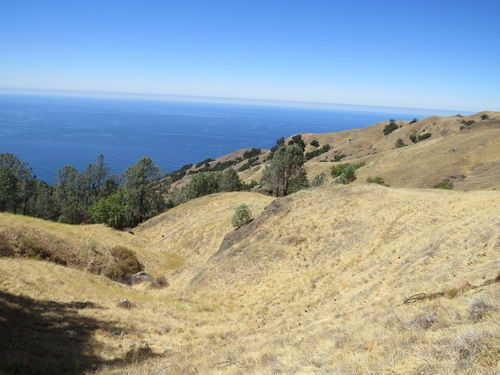 Sand Dollar Beach Trail

To find this hike, you'll need to look in the northwest part of the parking lot and look for the wooden steps. The steps will lead over the fence and then you'll be heading on the gravel path, which you follow. Head right after going down the beach straight ahead and follow the short trail to beach overlook. Take a moment to admire the ocean from this view! This trail is super nice, and it has one the best views in big sur. You might be able to see some Jade too! The hike itself is pretty easy and the path does has stairs and a modest elevation of 150 feet. Since the high bluffs protect most the sand dollar beach, it can even be a great place to hangout!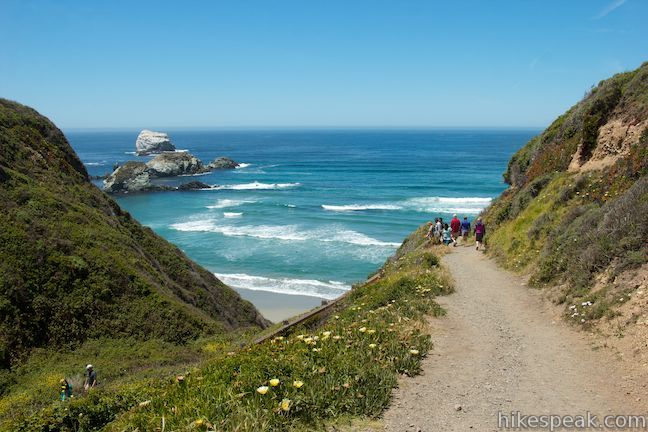 Jade Cove Trail

This is one of the wide open and beautiful trail in big sur. There are spectacular rocky coves and big beautiful trails. The Jade Cove Trail is relatively flat that has a steep but short path to the water where you can spend all day looking for jade. How cool is that? The actual hike itself is 1.6 miles and it goes in a loop so don't worry and just stay on the trail. The difficulty level of this hike is easy to moderate and the elevation gain (120') which is not too much. One thing to note that is there are no restrooms on this trail, so plan accordingly.