Attractions

Hiking Trails, Elephant Seals, and Other Ragged Point Attractions
Local Hikes
Ragged Point Cliffside Trail This past year, we worked on our strenuous 0.6-mile trail to a black sand beach. The trail, located on the edge of the Ragged Point property, provides great views of our 300-foot Black Swift Falls for much of the year. The Big Sur hike is only for experienced hikers with good hiking shoes.
Big Sur Ranch Just across Highway 1, on National Forest Land, you can access a series of trails through the backcountry. The trail leads gradually up the top of the hill and you can go up and in, about as far as you like. Hiking boots, water, a good hat, and sunscreen are recommended. You may spot deer, elk, fox, bobcats, and other wild animals as you hike.
Other Local Trails Salmon Creek Falls is 4 miles North on Highway 1. Big Sur National Park is 50 miles North. There are endless possibilities for great hikes in between the two. Ask in our lobby. Check out this article for Big Sur Hiking Trails.



Elephant Seal Rookery
The elephant seal rookery is just 9 miles south of us on Highway 1. You cannot disturb the elephant seals, but there are numerous viewing stations, informational signs, and docents on duty. See the Friends of the Elephant Seals for information.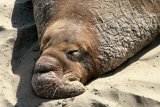 Hearst Castle
The Hearst Monument is 15 miles south, across from the old town of San Simeon. For information on the castle, and to reserve tickets, visit the Hearst Castle website. For Hearst Castle tours visit this page.
Pacific Coast Wine Trail

Other Attractions
Cambria Village - Quaint shops and good restaurants
Central Coast Wineries - Paso Robles is about 55 miles away. Visit Donati Family Vineyard or Cass Winery in Paso Robles.
Central Coast Outdoors - Adventurous tours of nearby wildlife. For more information and booking, visit their website.
About Ragged Point